Well here they are !
"Made with Billy's own Hands"
10Ply Solid Rock Maple 100% VSS Keller Shells w/All Slingerland Style Hardware
Theses babies are made with "LOVE"
If you would like to adopt one of these Beautiful Snare Drums. You will be the proud owner of
one of the best sounding snare drums you'll ever hear.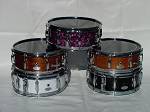 ENJOY !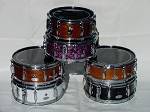 "Please Note That Shipping Prices of Any International Drum Orders Must be Quoted."